Sustainable Slumber had the opportunity to sleep on and review Brooklyn Bedding's best-selling mattress, The Brooklyn Signature. The Brooklyn Signature mattress was previously titled "The Best Mattress Ever". Does this mattress live up to that lofty title? There is a lot to love about this hybrid mattress!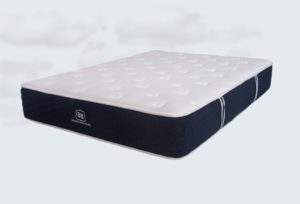 Sustainable Slumber's Favorite Features: 
-This mattress is a great value; it has a very fair price point for its quality.
-This mattress stays quite cool while sleeping on it.
-The edge support is excellent
-You can order any firmness level you would like: soft, medium or firm, so this mattress will work well for a stomach, side or back sleeper
Delivery
The mattress arrived very quickly after ordering and came in a lovely box that was waiting for me on my doorstep. Brooklyn Bedding offers free delivery on all their mattresses. Although it arrives compressed and roll-packed, it took two people to carry it to the bedroom and hoist up to the bed frame. Unpacking and rolling out the mattress was easy and fun!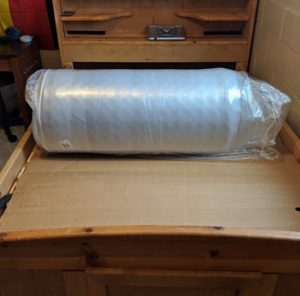 Sleeping
One remarkable feature of this mattress is that it is not a one-size-fits-all mattress; you can choose how soft or firm it is. A side sleeper will find that a soft or medium feel is most comfortable. A back or stomach sleeper will probably need a firm mattress.
Foam is quilted into the pretty cover of the mattress, giving it a slight pillow top feel. The first layer is TitanFlex foam, a titanium-infused foam. It conducts heat away from the body and made the mattress quite cool. This layer offered good pressure relief and had a good bounce to it. Beneath is a layer of firmer TitanFlex foam to lend support to the sleeper. The base layer of pocketed coils gives the bed its structure.
Many people who share a bed are concerned about motion transfer and edge support. Motion transfer while laying in bed from changing sleeping positions was negligible but you can feel a lot of motion from your partner when he or she gets in and out of bed. The edge support of the mattress is fantastic. Even when sitting directly on the edge, it gave good support and only sank a bit under my weight.
Brooklyn Bedding owns its manufacturing facility, something one rarely sees in the mattress industry. Cutting out the middleman by controlling the manufacturing process has allowed them to produce a quality mattress at a remarkable price point.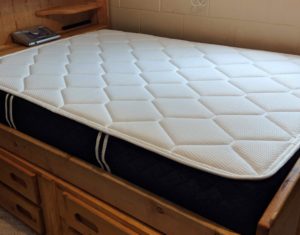 Flame Retardants
Most eco-minded consumers are concerned about the use of flame retardants in their mattresses. Brooklyn Bedding uses a layer of silica-infused fabric as a flame retardant. Silica is Sustainable Slumber's favorite conventional flame retardant because it is non-toxic and very effective.
Price:
The Brooklyn Signature comes in around 859.00 for a queen-sized mattress when you use the coupon code SUSTAINABLE10 for a 10% discount.
Do you sleep on a Brooklyn Bedding Signature mattress? What do you think of it?